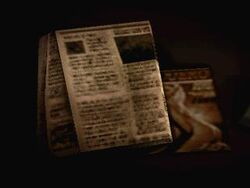 The PTV Article is a newspaper clipping that Harry Mason can find on the table of Norman's Motel.
Transcript
"INVESTIGATION STALLED

'PTV' dealers still at large. Suspicious deaths continue. Like the anti-drug mayor,

a narcotics officer dies of sudden heart failure. Origin is unknown."
Trivia
In Alchemilla Hospital, Harry can find another newspaper clipping on the first floor, which will become the camera focus if the player chooses, however Harry will only comment that part of it is missing in opposition to attempting to read it. Michael Kaufmann, an employee at the hospital and the primary dealer of PTV, is staying at the motel in the same general area of where the article is discovered, and Harry soon runs into a volatile and suspicious Michael Kaufmann. The first cutscene with Kaufmann also takes place in a room adjacent to the one that holds the first part of the newspaper. It is possible that to protect his public opinion and maintain his duty at Alchemilla, he may have endeavored to conceal any media productions that dug into the PTV investigation.