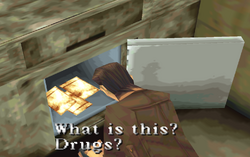 PTV is a recreational drug used by tourists and citizens of Silent Hill. Cybil Bennett makes a reference to drug-trafficking in Silent Hill and proposes this as a possible reason for the strange and very avid claims of a local woman, Dahlia Gillespie. Lisa Garland was a heavy user of PTV, and Michael Kaufmann was distributing it at one point.
PTV is purported to be made from an indigenous plant, White Claudia. It was a plant that grew on river banks and lake shores, notable for its long oval-shaped leaves and pure white flowers. The seeds were known to have hallucinogenic properties and were often sought after for use in ancient religious ceremonies, but now it was more common refine the seeds into PTV. It was popular with the tourists in Silent Hill for a time, but police efforts soon shut down the local traffickers to help clean up the resort town's image.
This is one of the many "in-jokes" made by the programmers, as PTV is a reference to the band Psychic TV. A room in Nowhere contains boxes of the drug labeled as "PSYCHICK TV". When Harry Mason comes to the shopping mall, he approaches an escalator, at which point his daughter Cheryl suddenly pops up on some TV screens and calls out to him. Afterwards, they show the same symbol shown in the school earlier, and among the symbols flashing across the screens is the Psychic TV cross. Another reference is to Psychic TV's leader, Genesis P-Orridge, is the Orridge Bridge Control Room.
References to PTV and White Claudia can be found throughout the game.
File 8: White Claudia Report
Location: Office, Silent Hill Police Station (on blackboard).
Product only available in select areas of Silent Hill.
Raw material is White Claudia, a plant peculiar to the region.
Manufactured here? Dealer = Manufacturer?
File 12: Newspaper Article
Location: Norman Young's motel.
INVESTIGATION STALLED
"PTV" dealers still at large.
Suspicious deaths continue.
Like the anti-drug mayor, a narcotics officer dies of sudden heart failure of origin unknown.
File 14: White Claudia Description
Location: Third floor, Nowhere room.
WHITE CLAUDIA
Perennial herb found near water.
Reaches height of 10 to 15 inches.
Oblong leaves, white blossoms.
Seeds contain hallucinogen.
Ancient records show it was used for religious ceremonies.
The hallucinogenic effect was key.
Trivia