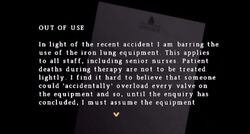 The Out of Use memo can be found in the TB Ward of Cedar Grove Sanitarium by Travis Grady in Silent Hill: Origins. It restricts the use of the iron lung machine and also makes mention of an "accidental" death during its use. The patient involved may have been the "Mr. Magpie" who was mentioned in the magpies memo. This, however, is unknown.
Transcript
"OUT OF USE


In light of recent accident I am

barring the use of the iron lung

equipment. This applies to all staff,

including senior nurses. Patient

deaths during therapy are not to be

treated lightly. I find it hard to

believe that someone could

'accidentally' overload every valve

on the equipment and so, until the

inquiry has concluded, I must assume

the equipment itself is at fault.


These precautions are essential- we

owe a duty of care to all of our

patients, even the difficult ones.


Dr. Harris"