Operating Theater Key
Description
"Operating Theater is written on the tag."
Purpose
Unlocks the doors of the Operating Theater.
Location
Alchemilla Hospital
Appearances
Silent Hill: Homecoming
The Operating Theater Key is one of the few keys found in Silent Hill: Homecoming. The key opens the door to the operating theater in the Alchemilla Hospital of Alex Shepherd's nightmare. It is found in the hand of the body of a doctor who was ripped in half. The doctor's body resembles Adam Shepherd, possibly foreshadowing how he will inevitably die.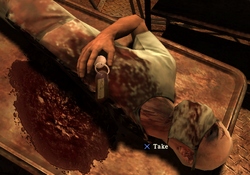 Ad blocker interference detected!
Wikia is a free-to-use site that makes money from advertising. We have a modified experience for viewers using ad blockers

Wikia is not accessible if you've made further modifications. Remove the custom ad blocker rule(s) and the page will load as expected.