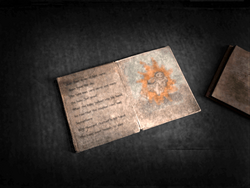 The Old Picture Book is a memo found in Silent Hill 4: The Room in Room 302 of the Past. A portion of the memo can also be found in the beginning of the game on the coffee table.
Script
There once was a baby and a mother
who were connected by a magical cord.
But one day the cord was cut, and
the mother went to sleep.
The baby was left all alone.

But the baby made lots of friends
at Wish House, and everyone was
very nice to him.
The baby was happy.

His friends told him how to
wake up his mother.
So the baby went right away
to go and wake her up.
But the mother wouldn't wake up.
No matter how he tried,
she wouldn't wake up.

Because the one that he was
trying to wake up was actually
the Devil.
The baby had been deceived.
Poor baby.

The baby cried and cried and cried.
When he thought of the mother,
he remembered the feelings of being
connected to her through the magical
cord.

Just then, a ray of light came down
from the sky.
The light was very warm and made
the baby feel good.
When the baby looked into his hand,
he saw that the magical cord was lying
there.

With the cord clutched in his hand,
the baby went happily to sleep.
Ad blocker interference detected!
Wikia is a free-to-use site that makes money from advertising. We have a modified experience for viewers using ad blockers

Wikia is not accessible if you've made further modifications. Remove the custom ad blocker rule(s) and the page will load as expected.