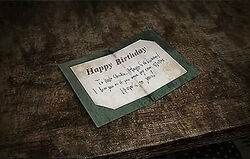 This is an article for the memo from Silent Hill 3. For the gift Amy Baldwin gave to her father, see birthday card.
The Old Birthday Card is a memo Heather Mason can locate on the first floor of the chapel in Silent Hill 3. She (then Alessa Gillespie) gave it to Claudia Wolf on her sixth birthday, and as Alessa was Claudia's treasured friend, she kept it for good.
Transcript
"To little Claudia,

Happy 6th birthday!

I love you as if you were my real

sister. Here's to you!"
Ad blocker interference detected!
Wikia is a free-to-use site that makes money from advertising. We have a modified experience for viewers using ad blockers

Wikia is not accessible if you've made further modifications. Remove the custom ad blocker rule(s) and the page will load as expected.