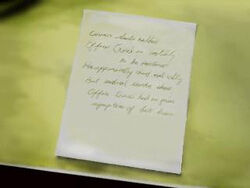 The Officer Gucci Report is a memo Harry Mason can find in Silent Hill. It is located on the right side of the desk near the chalkboard in the side room of the Silent Hill Police Station. It tells of an officer dying mysteriously, suspected to be some natural cause, and in a later memo it is verified that he died due to heart failure.
Transcript
"Coroner Seals called.


Officer Gucci is unlikely to

be murdered. He apparently

died naturally.


But, medical records show

Officer Gucci had no prior

symptoms of heart disease."
Trivia