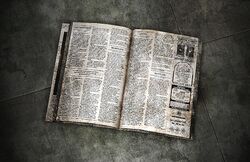 The Occult Magazine is a memo found on the stairs of Platform 4 in the Hazel Street Subway Station in Silent Hill 3 by Heather Mason. It alludes to an upcoming event in the game and ties the mysterious man mentioned in a newspaper article to this occurrence.
When Heather inspects it, she states that she read it before and thought it seemed like a "bunch of crap", but admits she would read it for fun, implying an interest with the paranormal despite not believing in it.
Transcript
"The souls of those who died
suddenly by suicide or accident
don't realize they're dead.
Sometimes they stay put and
haunt that particular place.
These spirits have lost their human
senses and memories and can only
keep replaying the pain and sadness
of the moment they died.
The pain can get so bad that they
turn to humans for salvation -- or
they begrudge humans their lives.
At such times they can possess
humans.
Places known as "famous suicide
spots" or "high-accident areas"
are often to blame.
You should be careful when
approaching such locations,
especially on the day or at the
time the death occurred.
That is, if you don't want it
to happen to you, too..."
Ad blocker interference detected!
Wikia is a free-to-use site that makes money from advertising. We have a modified experience for viewers using ad blockers

Wikia is not accessible if you've made further modifications. Remove the custom ad blocker rule(s) and the page will load as expected.