Ad blocker interference detected!
Wikia is a free-to-use site that makes money from advertising. We have a modified experience for viewers using ad blockers

Wikia is not accessible if you've made further modifications. Remove the custom ad blocker rule(s) and the page will load as expected.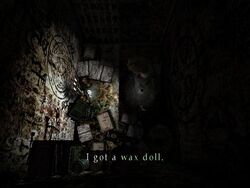 A pile of Occult Books can be found scattered around a cell in the southern cellblock of Toluca Prison, which appears in Silent Hill 2.
Most of these books are not a reference to anything that has been published in the real world, apart from "The Chronicle of Agrippa", which may be a reference to Heinrich Cornelius Agrippa, an occult writer best known for the Three Books of Occult Philosophy.
Book listing
Black Magic from the Abyss
Resurrection of the Dead
The Chronicle of Agrippa
Manuscript of the Iron Rings
On Sacrifice and the Art of Demon-Summoning
Tome of the Seer
The Feast of the Succubi
The Fallen Angels of Mercy and Favor
Trivia