Ad blocker interference detected!
Wikia is a free-to-use site that makes money from advertising. We have a modified experience for viewers using ad blockers

Wikia is not accessible if you've made further modifications. Remove the custom ad blocker rule(s) and the page will load as expected.
Now We're Free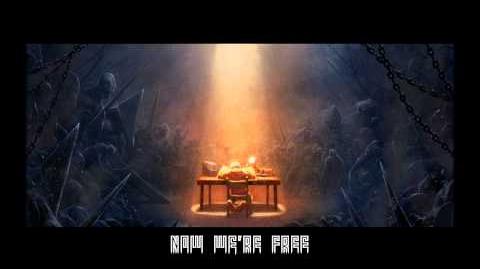 Album
Silent Hill: Book of Memories Original Soundtrack
Artist
Daniel Licht
Vocals
Mary Elizabeth McGlynn
Now We're Free is a song from Silent Hill: Book of Memories. The song is track 25 of the game's soundtrack. It was composed by Daniel Licht, with vocals by Mary Elizabeth McGlynn. It plays in the start menu.
Lyrics
I have these pages torn
And crumbled on the floor
When we were younger then
I have a heavy heart
It doesn't wanna start to love you again

Now we're free

The time it ticks away
The hands they slowly say
The words we dare not speak

Your soul it's black and white
Our shadows dance at night
Atop a lonely peak

Now we're free
Now we're free
Now we're free
Now we're free

Your flesh, your bones, your skin
Your grayest day of sin
It's all a part of me now

It kills me everyday
My heart is torn and frayed
I've born insanity

Now we're free
Now we're free
Now we're free
Now we're free
Now we're free
Now we're free (ah ah ah)
Now we're free (ah ah ah)
Now we're free (ah ah ah)
Ah ah ah ah...

Now we're free (I have these pages torn)
Now we're free (And crumbled on the floor)
Now we're free (I have these pages... heavy heart... crumbled on the floor)