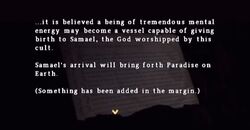 The Note on the Ritual is a memo Travis Grady finds in Room 503 on the first floor of Riverside Motel in Silent Hill: Origins.
It refers to the rituals of the Order – in particular, the birth of God and the vessel which would be used to bring Her into the world: Alessa Gillespie.
Transcript
"...it is believed a being of

tremendous mental energy may

become a vessel capable of giving birth

to Samael, the God worshipped by this cult.


Samael's arrival will bring forth

Paradise on Earth.


(Something has been added in the

margin.)


Given that this vessel is to be molded

with 'suffering and pain', just what

kind of God and what kind of 'paradise'

would result?"