Silent Hill films
Silent Hill
Nicky Guadagni is a Canadian actress, first premiering on television in 1984 as "Mary" in the A Matter of Sex series, and is best recognized for her work in Major Crime and Blue Murder. For these two roles, she won two Gemini Awards. She has performed in several Shakespearean plays and graduated from the Royal Academy of Dramatic Art.
She appears in the 2006 film Silent Hill as an elderly member of the Brethren, Eleanor.
Trivia
Digital editing techniques were used to give Nicky a younger look for the flashback scenes, which depicted Eleanor thirty years before the events of the film.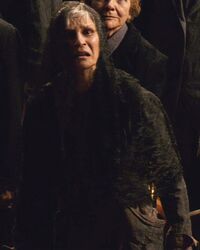 Ad blocker interference detected!
Wikia is a free-to-use site that makes money from advertising. We have a modified experience for viewers using ad blockers

Wikia is not accessible if you've made further modifications. Remove the custom ad blocker rule(s) and the page will load as expected.