Appearances
Silent Hill Shattered Memories
New Looks is a hair salon in Toluca Mall that Harry Mason can visit in Silent Hill: Shattered Memories. It is one of two possible paths that Harry can take to continue through the mall, the other being Celebration Time Gift Shop.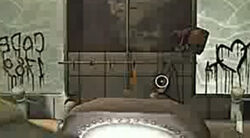 Once inside, Harry finds that the employee door is locked. To find the code, he must turn on the hot water in the hair washing sinks. The mirrors above the sinks will steam up, revealing that something has been written on each of them. One mirror has a heart with an arrow through it, another says "I hate my face," and the last reveals the door code.
Ad blocker interference detected!
Wikia is a free-to-use site that makes money from advertising. We have a modified experience for viewers using ad blockers

Wikia is not accessible if you've made further modifications. Remove the custom ad blocker rule(s) and the page will load as expected.