Ad blocker interference detected!
Wikia is a free-to-use site that makes money from advertising. We have a modified experience for viewers using ad blockers

Wikia is not accessible if you've made further modifications. Remove the custom ad blocker rule(s) and the page will load as expected.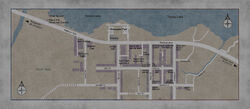 Neely St. is a road in the South Vale section of Silent Hill, seen in Silent Hill 2. It starts at Nathan Avenue and ends at a chasm in the road after Saul Street.
Businesses
Silent Hill Fresh Meats
The Dance Company
Gozo's Sushi
Chiropractic and Sports Injury
Humongous Burritos
World Clock House
Giga Computers
Unknown - Brick building with colorful awning.
Grand Market
Lucky Jade Restaurant cannot be entered, but health items can be found near the door.
Happy Burger made its first appearance in Silent Hill 2, on the corner of Neely St. and Sanders St. It cannot be entered in this game, but Heather Mason wakes up in another Happy Burger location in Silent Hill 3.
Air International - Silent Hill Travel Service
Quiet Cocktails
Fashion Boutique
Dry Cleaners
Pet Center
Unknown
Impressive
I Love Groovy Music
Big Jay's
American Cafe and Caterer
Auto Parts
Rose Clothing
Baby and Kids Super Store
Neely's Bar is located on the corner of Neely St. and Sanders St. James can enter the building to get a clue to lead him to the Apartment Gate Key on the map. The wall also contains a message for James.
Neighborhood Cafe
Silent Jewelers
Baby's Closet
Saul Pharmacy
Kent Shoes
Lake Side Restaurant
Silent Hill Tavern
Gallery