James in front of Neely's Bar
Appearances
Silent Hill 2
Neely's Bar is an accessible building on the corner of Neely and Sanders Streets in Silent Hill 2. A message in the motor home on Saul Street reads "I'll wait at "BAR Neely's", which directs the player to Neely's Bar; however, it is not a requirement to visit the motor home first. At Neely's Bar, the player will discover an important clue to obtaining the apartment gate key scrawled on a map. There is also a strange message written on the window which reads: "There was a HOLE here. It's gone now." A second message can be found here later in the game.
Given Team Silent's well-known propensity for referencing horror authors, it could be a reference to Neely's Prismatic Library, the publisher which first printed The King in Yellow in the late 1800s, a seminal book highly inspirational for writers like H. P. Lovecraft.
Message speculation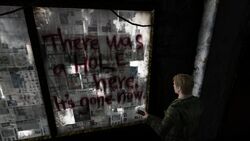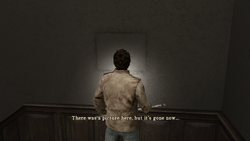 There are various explanations for the first message found in Neely's Bar.
One could assume this message was written by the same person who wrote "I'll wait at "BAR Neely's" due to capitalization of one word. Also, the words "hole" and "bar" are both capitalized, which could mean they are interchangeable.
Alex Shepherd in Silent Hill: Homecoming also seems to make a subtle reference to it.
Here are a few common interpretations of what the "HOLE" referenced could mean:
"Watering hole" is common Western slang for bar, and it's possible this is just an allusion to the bar itself.
The "hole" could represent a missing piece of James Sunderland's life which is filled later in the game when Mary forgives him.
The "hole" could refer to one of the numerous holes James must take leaps of faith into while in Toluca Prison. There could have been such a hole in Neely's Bar.
If the "hole" is indeed meant to reference Silent Hill 4, then Team Silent may been planning the future game well in advance. It's quite possible with the references to Walter Sullivan and the murders of Billy Locane and his sister in the game. Another possibility is that Silent Hill 2 and Silent Hill 4 were meant to be interwoven stories from the beginning similar to how Silent Hill and Silent Hill 3 were.
Taking the message more literally, the "HOLE" could be referring to a hole on the window that was formerly there, which was then covered up with newspapers by someone.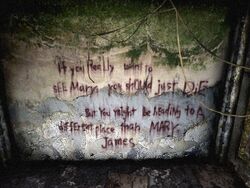 A second message appears after leaving the Otherworld Brookhaven Hospital. It reads: "If you ReaLly wAnt to sEE Mary, you shOUld just DiE. But You mIght be hEadiNg to A diffErent place than MARY, James." It appears to mean that while Mary is already in Heaven, James may be going to Hell instead. This message increases the player's chances of receiving the "In Water" ending. Also, other actions such as examining Angela's Knife and reading the diary on the hospital roof also add towards getting the ending.
There is also a possibility that the second message is created by James himself, or, to be more specific, his subconscious realization or a vague epiphany of what he had done and what really happened to Mary. Since the message only appears after Maria was first killed by Pyramid Head, it can be inferred that the message is hinting towards the beginning of his slow realizations.
It's possible that the person who wrote both messages is the same person. Born from a Wish shows that other entities, namely Ernest Baldwin, in Silent Hill are aware of James and what he has done, so it is possible that it could be him. Laura is a child and the haphazard capitalization is almost childish, and Laura clearly has a dislike for James in the beginning of the game, so it's possible that it was written by her.
It is possible that the captial letters in the second message is an anagram. "I NEED YOU MARY BE REAL." If true then it might explain the odd capitalisation.
Trivia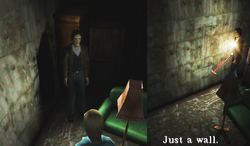 The hole message might be a reference to the hole in Green Lion Antiques from Silent Hill. The hole is present when Harry Mason first visits the antique shop but disappears when he revisits the shop in Nowhere. Also, the word "BAR" can be seen on a cupboard near the far wall.