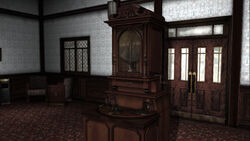 This article is a guide for a Silent Hill 2 puzzle.
The Music Box Puzzle of Silent Hill 2 is found near the end of the game in Lakeview Hotel. James Sunderland should have three music boxes in his inventory, Cinderella, Snow White and the Little Mermaid, from exploring the hotel. Insert them into their correct places, play the music box and it will play correctly. The music boxes will turn to the inside of the large music box on a turntable and three more music boxes will be revealed, with a key on the one in the middle. If the music boxes aren't in their correct spots, the music will play unpleasantly.
The player must retrieve the flashlight from the shelf if it hasn't been picked up already or else the protagonist can't examine the music box in the darkness.
Solution
Easy
In each slot, the same thing is written:
"When the Lost One is returned
the sour note shall turn sweet"
It doesn't matter where the music boxes are rightfully arranged, the player is free to place them anywhere.
Normal
From left to right:
"Seat of the Princess
who fled at midnight."
"Seat of the Princess
who awoke from death."
"Seat of the Princess
who spoke no words."
These ones should be obvious. The Princess who fled at midnight is Cinderella, the Princess who awoke from death when the Prince kissed her was Snow White, the Princess who spoke no words was the Little Mermaid.
Hard/Extra
"'Twas shameful greed did stain
her shoe with blood."
"Even so, I still want to believe
that she was happy."
"Beauty: both a blessing
and a curse thou be."
In the original story, there was blood on Cinderella's shoe when her stepsister tried it on, thus the first sentence is Cinderella. "Even so, I still want to believe that she was happy" is the Little Mermaid, because she gave up her voice to find happiness with the Prince. The last sentence is Snow White, because she was so beautiful that it was a blessing, and also a curse because the Queen wanted to kill her because of it.
Trivia
Each of the music boxes' locations is related to their stories:
The "Little Mermaid" box is beside a fountain (she lived in water)
"Snow White" is found among apples (she is killed by a poison apple)
"Cinderella" is found locked inside of a briefcase (she was locked inside of her room). In addition, the briefcase has a numerical lock, and must have the correct "fit" (like her shoe).
Gallery