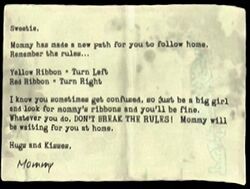 The
Mother's Note
can be found inside a child's lunchbox next to a post at the northwest corner of Lansdale Avenue and Brite Street (near the
Pearl Creek Bank
) in
Pearl Creek
in
Silent Hill: Downpour
. This note is related to the
"Ribbons"
sidequest
where the player must use the two different colored ribbons (yellow and red) which are tied around street lights in order to try and locate the missing little girl;
Ariadne Johnson
.
Transcript
Sweetie,
Mommy has made a new path for you to follow home. Remember the rules...
Yellow Ribbon = Turn Left
Red Ribbon = Turn Right
I know you sometimes get confused, so just be a big girl and look for mommy's ribbons and you'll be fine. Whatever you do, DON'T BREAK THE RULES! Mommy will be waiting for you at home.
Hugs and Kisses,
Mommy
Ad blocker interference detected!
Wikia is a free-to-use site that makes money from advertising. We have a modified experience for viewers using ad blockers

Wikia is not accessible if you've made further modifications. Remove the custom ad blocker rule(s) and the page will load as expected.