Monster Cybil (known more accurately as Parasitic Host Cybil) is a major boss in Silent Hill.[1]
Cybil Bennett becomes host to the same kind of parasite that infected the Puppet Nurse and Puppet Doctor. Cybil appears in Lakeside Amusement Park's merry-go-round, sitting in a wheelchair, but stands up when Harry Mason enters. Killing her will result in the Good or Bad ending, while saving her will award the player with the Good+ or Bad+ ending.
Appearance
Cybil looks almost exactly like herself, only she has red eyes and walks with a hunched back.
Character
Cybil walks slowly after Harry. She is capable of shooting him with a handgun that will instantly take the player's health to red, showing that she is very dangerous. She will also pistol whip Harry if he gets too close. Once she runs out of ammo, she will then put down her gun and walk to Harry in an attempt to strangle him.
There are two ways to defeat her: the first is to kill her normally or the player can instantly use the bottle of red liquid found in Alchemilla Hospital to exorcise the parasite inside of her.
Strategy
Killing Cybil
The best strategy to kill Cybil is to get her to run out of ammunition first; it takes less than 10 shots to get her to drop her handgun. If one attempts to shoot her before she drops her handgun, there is a high risk of getting shot at in the process, due to open position and Harry's recovery time from the firepower. To avoid Cybil's fire, strafe left or right, or run around her in a circular motion. If Harry is hit, it is best to immediately heal. She can also pistol-whip Harry if he is too close; this does not inflict a tremendous amount of damage, but being within close proximity of her and continuously receiving this treatment does accumulate dangerous wounds.
Once Cybil drops her handgun, equip the handgun, shotgun or hyper blaster. Also consider the rifle, however, Harry cannot move while using it so keep a distance and remember to quick turn.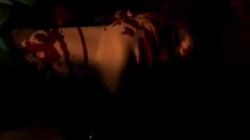 Shoot Cybil with the firearm and walk backwards at the same time. If Harry gets caught on a horse while walking backwards, turn around and move further down the carousel. Because Cybil walks faster than Harry walking backwards, it is recommended to turn around and leave more distance between Harry and Cybil when she comes too close. To quick turn, press the L1 and R1 buttons at the same time.
When Harry defeats Cybil, she falls to the ground and squirms in pain as she bleeds violently from her face. Harry then kneels down in sadness and frustration.
Saving Cybil
To save her, it is best to immediately walk in front of her before she can lift her handgun, open the inventory, and use the red liquid on her.
To evade this battle, the player can also use the Aglaophotis on a Larval Stalker anywhere in the park before entering the carousel through a glitch.[1]
Trivia
Play Novel: Silent Hill implies that Cybil was conscious during her possession. When Cybil is about to shoot Harry, he says that "Upon closer inspection I can see that her eyes are full of tears." It's also mentioned that Harry conceived the idea of using Aglaophotis due to her red eyes reminding him of the liquid.
Unlike the Puppet Nurses and Puppet Doctors, Cybil lacks the towering, parasitic growth on her back, likely because she was only recently infected.
If Harry runs around the carousel, she can be seen sitting on one of the horses, humorously crossing her legs as if waiting for Harry, and will jump off once Harry approaches her.
References
Gallery