Role
Mary Shepherd-Sunderland
Maria
Monica Taylor Horgan is the voice actress who voiced and did the motion capture for Mary Shepherd-Sunderland and Maria in Silent Hill 2.
She attended King's College, University of London and the Royal Academy of Dramatic Art, and has also done voice work for English-language commercials in Japan.
Credits
Silent Hill 2 - Mary and Maria
Shenmue - Additional voices
Trivia
Monica occasionally plays video games. She has also played Silent Hill 2, though never fully completed the game.
External links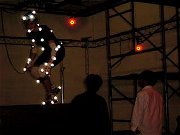 Ad blocker interference detected!
Wikia is a free-to-use site that makes money from advertising. We have a modified experience for viewers using ad blockers

Wikia is not accessible if you've made further modifications. Remove the custom ad blocker rule(s) and the page will load as expected.