Midwich Elementary School
Talk

2
2,106pages on
this wiki
The entrance to Midwich Elementary School
Appearances
Silent Hill
Silent Hill film
Dying Inside
This article is for Midwich Elementary School seen in Silent Hill and its film adaptation. For the school in Silent Hill: Shattered Memories, see Midwich High School.
Midwich Elementary School is a school located on the south-west side of Old Silent Hill, on Midwich Street. Alessa Gillespie was a student here, and it is an important location in the first Silent Hill game. Midwich Elementary School was also featured in the film and comic series.
Appearances
Silent Hill
In the original Silent Hill, the school plays as the first major building in Silent Hill that Harry Mason explores, in a bid to find his adopted daughter, Cheryl Mason, who left clues to her next possible location in the form of scrawls from her sketchbook.
During Harry's visit to the school, he encounters the Grey Children (or Mumblers in the non-North American versions), as well as an assortment of various riddles and puzzles that will ultimately lead him to the Otherworld version of the school. Midwich Elementary is the first building Harry visits that undergoes a complete Otherworld transition, though this is done during Harry's travels through the clock tower, so the transition itself is subsequently unseen.
Alessa's classroom is revisited in Nowhere.
Midwich also served as an integral part of the Silent Hill demo, which was dubbed 'battle mode'. In this mode, Harry would simply need to escape the school by finding the Lobby Key; an element that would later be replaced with a boss battle, as well as a few other minor alterations.
Silent Hill 3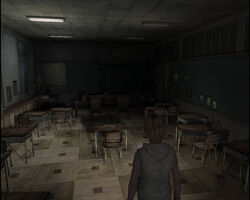 In Silent Hill 3, Heather Mason does not physically enter Midwich Elementary School; however, the chapel has a room that resembles Alessa's classroom. This is the manifestation of Alessa's memories and emotions. It is also learned that Claudia Wolf was a friend of Alessa's, and possibly attended the school with her.
Silent Hill film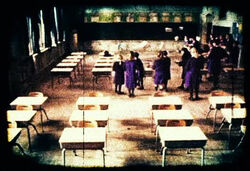 In the film, the school is run by the local religious cult, and its headmistress is Christabella, the cult's priestess. Religious symbols and quotes are found in every part of the school, representing the firm beliefs of the Brethren.
Instead of Alessa's desk being pushed to the center, like it was in Silent Hill 3, Alessa's is put in with everyone else's but is in very poor condition. The word "WITCH" has been etched into the wood multiple times by other students, and are shown to often surround Alessa and tease her at her desk.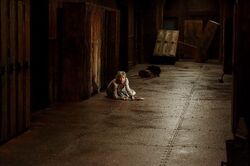 The film initially follows the first game by having Rose Da Silva enter the school looking for her missing daughter, having been led there by a drawing of the school she finds in Sharon's sketchbook, only to find clues as to Alessa's life. There, Rose learns that the child she has been chasing is Alessa, not her own, and she sees Dark Alessa's handprints etched into the dirt on Alessa's desk. After chasing Dark Alessa into a bathroom on the second floor, the school shifts to its Otherworld version. However, Rose is unable to deal with the Otherworld's enviroment and creatures and later escapes with the assistance of Officer Cybil Bennett.
During a flashback depicting Alessa's suffering at the hands of the cult, Rose learns that Alessa was sexually assaulted by a school janitor while trying to hide from her teasing classmates. It is also in the bathroom that Christabella convinces Alessa's mother that her child must be "purified", which later turns out to mean "burned alive".
A real world version of the school is seen when Christopher Da Silva and Thomas Gucci visit there, in search of Rose. While there, Rose and Chris pass through the same space at the same time, but neither can see or hear the other, due to the two of them being in different versions of reality.
Lauryn LaRoache is drawn to Midwich Elementary by her sister's evil spirit. Once there, she is forced to help her sister fight in a struggle for control of the darkness covering Silent Hill.
Students
Teachers
Trivia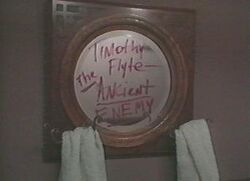 See also
Gallery
Silent Hill
Silent Hill film