Silent Hill films
Silent Hill
Michael Cota is a hip hop dancer, who also occassionally works in digital effects. He was responsible for the effects on the TV series, Vinyl Rewind, and was given a special thanks for his work on Nova. He appears as the Armless Man in Silent Hill. Director Christophe Gans and dance coordinator Roberto Campanella specifically chose Michael because of his hip hop background.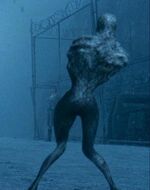 Trivia
Michael was unable to breathe naturally in the Armless Man costume, and so had to have an air tube that poked out of his costume near his legs.
The costume for the Armless Man reminded many staff members of a large, painted condom, and therefore led to him being jokingly nicknamed "Trojan Man" on the set.