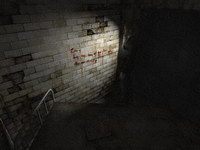 A Message to Louise is written on the wall in Room S14 on the third floor of Brookhaven Hospital in Silent Hill 2.
Due to a memo found in the first floor reception office, it's possible that Louise is the daughter of Joseph Barkin, the same man who has been leaving poorly written memos around the hospital (much like this memo, even though "four" may be intentional, it's also grammatically incorrect).
Transcript
"Louise

I'll take care of you four ever.

It's my destiny!"
Ad blocker interference detected!
Wikia is a free-to-use site that makes money from advertising. We have a modified experience for viewers using ad blockers

Wikia is not accessible if you've made further modifications. Remove the custom ad blocker rule(s) and the page will load as expected.