Merchandise
Talk

0
2,109pages on
this wiki
Across the Silent Hill universe is a wide spectrum of both official and fan-made merchandise. These mainly take form in posters and shirts, but have known to be much more extravagant such as life-size Pyramid Head models and real props used on the movie set.
An extensive set of Silent Hill merchandise can be viewed on the websites Silent Hill Collection and Ratio's Silent Hill Collection.
Silent Hill 2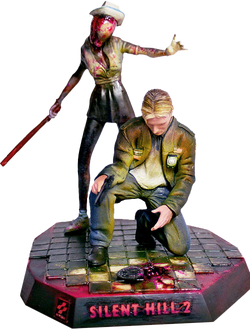 This painted resin statue is of James Sunderland attempting to obtain a key from a drain, unaware of a Bubble Head Nurse closing in on him, wielding their iconic pipe weapons from Silent Hill 2. The statue was released in 2001, the same year the game was released, and was only made available in Europe. The statue was sculpted by Studio Oxmox and manufactured by Muckle Mannequins. There are a few differences when compared to the games, such as the design of the flashlight clipped to his jacket, and a few minor color differences.
On June 24th, 2013, Insert Coin Clothing announced that they would be developing apparel based off of the world of Silent Hill 2, as part of a partnership with Konami. These include three t-shirts with Silent Hill references (a humorous Silent Hill Radio Repair shirt, Lakeview Hotel guest shirt, and a shirt based on the Silent Hill Historical Society). Most notably, they created a consumer-recreation of James Sunderland's iconic jacket. Having stated that they had taken special attention to the details, the jacket has been a huge success. [1]
Silent Hill 3
This painted cast model depicts Valtiel, one of the most iconic monsters from Silent Hill 3, emerging from a trap hatch of a tiled floor. Sculpted by Shinya Akao and manufactured by Trans Japan, this polystone figure is designed at a 1/6 scale. Being a compound, polystone is mostly a mix of polyurethane resin, which is mixed with powder stone additives, and has a very porcelain-like feel. Polystone models are quite heavy, with this particular model weighing at around 1,300 grams, nearly 46 ounces. The Valtiel model contains a number of detailed features, such as fine cracks and contours around his body, laced stitching along his back, and a Seal of Metatron tattoo on his shoulder. The statue shows a thin, tongue-like prong emerging from the back of his head.
Silent Hill: Homecoming
Retailing for about $20 the Silent Hill: Homecoming playing cards are a standard 52 card poker deck, with artwork based on the characters, monsters, and weapons from the game Silent Hill: Homecoming. The cards feature the characters Alex Shepherd, Joshua Shepherd, Adam Shepherd, Lillian Shepherd, Elle Holloway, Margaret Holloway, and Deputy James Wheeler. Nearly all of the monsters and bosses are present too, with the exception of Scarlet. A variety of weapons are also included as artwork, including the circular saw. Most of the artwork is lifted from the game, while others, such as Amnion and Judge Holloway, are based on their concept artwork. Robbie the Rabbit also makes an appearance as the Joker card. The artwork for the back of the cards is the simplified version of the Halo of the Sun.