Other appearances
Silent Hill: Shattered Memories (cameo)
Locations
Otherworld Lakeview Hotel roof
Attack methods
Strangulation
Moth swarm
Mary is the final boss of Silent Hill 2 and is encountered after climbing a metal stairwell at the end of the Otherworld Lakeview Hotel.
James Sunderland encounters either Mary Shepherd-Sunderland or Maria in the form of Mary in the game's final scenes, depending on the player's actions throughout the game. If Maria, he rejects her and this causes her to transform. If Mary, she blames him for her death and proceeds to attack James, initiating the final boss fight.
Appearance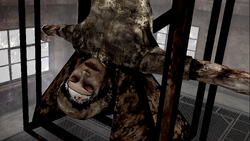 She appears as a version of Mary's corpse displayed in a metal frame, similar to the Flesh Lip. Her arms and legs end in a series of short tentacles rather than hands or feet, and she is suspended in the metal frame, screaming and upside-down.
Character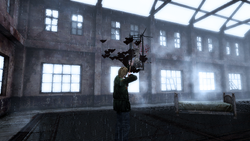 Mary attacks by spewing forth a swarm of moths from her mouth in order to injure and delay James, as the insects are flesh-eaters. She can also hit James with the frame she rests in or use her tentacle to strangle him, provided that he is within range.
She takes quite a bit of damage before falling, so saving up ammunition for the encounter would be recommended, though it is not necessary; she eventually falls herself. It is very difficult to attack her with a melee weapon due to the metal frame and tentacles she uses. The rifle is the best choice to fight her with. After she falls to the ground, she whispers James's name repeatedly. One last blow to the now-helpless monster ends the fight.
Symbolism
According to the Book of Lost Memories, Mary's form represents James's conflicted emotions towards her during her final days. The metal lattice probably symbolizes Mary's sense of confinement in being bedridden due to her illness.
The moths that surround her are used to symbolize death; comparatively, Maria has a tattoo shaped like a butterfly, which represents rebirth. James once attempted to give Mary some flowers, but she rejected them. It is known that moths are attracted to flowers and devour them, so the moths may be symbolic of Mary rejecting James's kindness.
Ironically, Mary can also use the tentacle to strangle James, similar to his asphyxiation of her.
Trivia
Depending on the ending, Mary/Maria says something different before transforming. In the Leave ending, she says, "No! I won't let you! You deserve to die, James!" In the Maria ending, she says, "James, do you really think I could ever forgive you for what you did?!" In the In Water ending, she says, "I'll never let you have your MARY back!" In the Rebirth ending, she says, "Oh James... C'mon James! You must be joking!"
If James stands in a certain spot, it may be possible for Mary to die without attacking James. However, this may not be possible in all versions of the game.
Defeating Mary in the Silent Hill HD Collection awards the trophy/achievement "Say Goodbye".
Mary is one of the only five monsters that are conscious and can speak in their monstrous forms, the other four being Leonard Wolf, Momma, Steel Guardian, and Monocle Man. Note that the Sad Daddy could speak only in its human manifestation.
Mary makes a cameo in Silent Hill: Shattered Memories. She can be seen floating in the corner of Dr. Kaufmann's office during the UFO ending.
Unlike in other games, James doesn't jump in a hole or goes downstairs to start the final battle. Instead he ascends from the basement to the first floor to fight the Pyramid Heads and then higher to meet Mary.
Gallery