Status
Unknown (deceased in most endings, presumably alive in Maria ending)
Manifestation
Cause of death
Killed by James (Leave/In Water/Rebirth)
Hair color
Blonde with pink tips
(naturally brunette)
Occupation
Dancer (former dancer at Heaven's Night)
Appearances
Silent Hill 2
Silent Hill 2: Born from a Wish
"
What?! But I'm what you wanted! Mary's dead. Don't you understand? She's not coming back! But I can be yours... I'll be here for you forever... I'll never hurt you like she did! So why don't you want me?!
—Maria to James Sunderland in the Rebirth ending

"
Maria is a major character and arguably the primary antagonist in Silent Hill 2. She is the protagonist of Silent Hill 2: Born from a Wish. She meets James Sunderland in Rosewater Park and stays with him sporadically after that.
She is nearly identical to James's late wife, Mary, in almost every physical aspect, although her appearance and personality are more sexually extroverted. Maria is a very enigmatic character and could be seen as some sort of reincarnation or ghostly form of Mary, as a supernatural, and possibly sinister creature of unknown origin, or some combination of these. At times, she seems to possess Mary's memories.
James is both attracted to Maria and fearful of what she might represent, and he struggles to understand her. Maria appears to be a manifestation created by James's desperation to see Mary again and fill the void of Mary in James's life, an idea supported by the title of Maria's scenario, Born from a Wish. Born from a Wish suggests that, in the beginning, even Maria isn't really sure what or who she really is, but by the time she first encounters James, she is beginning to "remember" him. Since the title is called Born from a Wish, it could be assumed that Maria is one of James's wishes, since Mary wasn't everything James wanted. It could also reference James's wish to see his wife again, even if it meant an illusion.
Personality
The instruction manual describes her as the opposite of Mary, "cheerful and energetic", but she is also rather dark and moody. Her personality is highly unpredictable; sometimes she is fearful and clingy, but she sometimes speaks tenderly to James and flirts with him, and at other times she is more teasing or even cruel. In the beginning of Born from a Wish, Maria reveals she hates being alone, and that she's afraid of death and being in pain.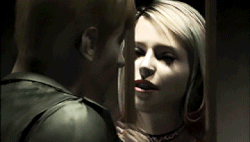 She seems to have Mary's personality and memories, given that she is a representation/illusion of Mary. This behavior is exhibited in the Labyrinth jail cell, for example; she cycles from Mary's sweet, soft tone and even her memories to Maria's more seductive tone. She seems consistently concerned about Laura, a little girl who was Mary's friend during her hospitalization. Maria shares Mary's desire for James to love her, for example, in the hospital, she asks what James would do if he couldn't find Mary. At one point in the hospital, Maria begins coughing, swallows some pills and rests on a bed, evoking Mary's illness.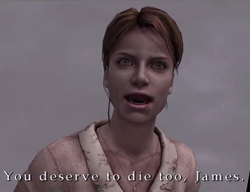 Due to some of her behavior and her attempts to make James accept her, even going to the extreme of trying to kill him when he refuses her (although it is possible that when she transformed into a monster, she couldn't control her own actions), she can be considered the primary antagonist of Silent Hill 2, as she tries to "trap" James into his past, refusing to let him go. Maria is absurdly clingy to James, despite that he clearly told her that he lost his wife and she's only known him for a few hours. Maria's love for James is unrequited, and James only reciprocates this love in the Maria ending. Maria's violent behavior regarding James' rejection of her could be seen as immature and childish, although, again, it is possible she couldn't control her actions as a monster.
Despite her actions, Maria is not evil or malevolent. In fact, Maria seems to be rather sweet at times, calling James kind before she met him when Ernest Baldwin warns her, being worried about Laura being surrounded by monsters, and in the "Maria" ending going as far as to ask about Mary. This may be as part of the "trap" or, perhaps, a part of Mary's personality that is shown through her. However, in Born from a Wish, she is self-aware or sentient to an extent, and seems to be helping Ernest out of her own desires. Because of this, the line between Maria's free will and her duty as a manifestation of James is quite blurred.
Maria may be having an existential crisis, seeking purpose and meaning. Maria believes James may have this meaning despite being warned by Ernest not to seek him out, and refrains from suicide because of it.
By the time James meets her, she already knows that he killed Mary. Maria decides to follow her "fate", and seems to keep reminding James of Mary's death, as Maria (an illusion of Mary) dies many times during the game. She leads James in the right direction and gives him many subtle clues on where to go next. She asks him "Is this your only 'special place'?", and tells him about the Lakeview Hotel, saying "I'll bet it was."
Maria frequently reminds James that she's "real". When they first meet, she states "I don't look like a ghost, do I? See, feel how warm I am!" and later, "It doesn't matter who I am. I'm here for you, James. See? I'm real." This is open to many interpretations, including that Maria is solely meant for James himself, as he (besides Ernest, who was hinted at as being a ghost) is the only person she encounters. This is most likely the reason she stays outside of the bowling alley, avoiding Eddie and Laura. Maria is never present whenever James encounters another human; she is aware of Laura and claims to have seen her, but the two of them are never seen together. Her isolation from the other characters enhances her phantom-like qualities and furthers the idea that she was created for James alone. Her repeating to James that she is real may be her trying to convince him that she is. She may also say it to convince herself, as she seems to be aware she's a manifestation, and seems to be extremely troubled by it. In Born from a Wish, she interrupts Ernest and claims "that's just what he believes" and he "doesn't really know anything", when he speaks to her about identity, James, and other things relating to her purpose as James's manifestation.
She also knows James's name and says it many times, even though he never told her his name before. James does not seem to notice this, or perhaps does not want to mention it.
Silent Hill 2
Born from a Wish
The Born from a Wish scenario serves as Maria's introduction in the Silent Hill universe, although this prequel game was created after the release of Silent Hill 2. The Maria seen in Born from a Wish is much less sassy and confident than in the main game, and it is suggested that she has no memory of who she is or how she came to be there, furthering the ambiguity of her origins. It is also learned that Silent Hill is Maria's birth town, indicating that Maria had either lived in Silent Hill before or this is just where she was created from James's wish.
Maria was produced by James's delusions as a result of his inability to bear the weight of the crime of killing his wife. It is established in Silent Hill 3 that her model is a dancer at the club Heaven's Night. One theory is that although Maria is created for James, she may have been a real person prior and that Silent Hill used her to play with James's mind. This could be evidenced by the fact that Maria also sees the monsters in Silent Hill, although she herself has nothing to be exorcized, pointing out that her link to James may be what allows her to see the same monsters he does, rather than just Pyramid Head. She seems to have a decent memory of her job at Heaven's Night, although this could just be Silent Hill tampering with her memories.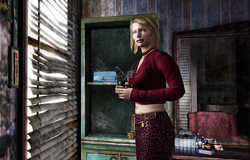 In the beginning, Maria wakes up alone and frightened in Heaven's Night. After pondering to herself about what she should do, she eventually decides to try and find someone else in the town. With a revolver and cleaver, she begins to wander through the monster-filled streets of South Vale until she eventually enters the Baldwin Mansion.
Here, she meets the owner of the mansion, Ernest Baldwin, although she never actually sees him; all their conversations are shared between locked doors. Ernest speaks in a strange monotone, and asks her to find him the "white liquid" in the Blue Creek Apartments to help him bring back his dead daughter, Amy. Maria helps him with this, even though it may not work, stating, "I don't mind fighting for an impossible cause."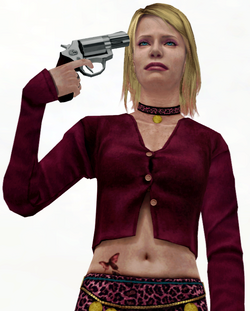 After Maria retrieves the "white liquid" to Ernest, he reveals slightly more about Maria to her, and tells her about a man named James Sunderland. He warns Maria that James is a bad man, and that he's looking for "the you that isn't you". This seems to stir something in Maria, who begins to remember things about James; that he wasn't good to his wife while she was ill and that he killed her. She also remembers that underneath, James is a kind person. Maria then opens the door, but the room where Ernest is in is empty, implying he was a ghost.
Disappointed, Maria leaves the Baldwin Mansion and considers suicide, holding her revolver against her head, but refrains and tosses it over a wall. She decides to follow her fate and walks to Rosewater Park, hoping that James will accept her.
Letter from Silent Heaven
James Sunderland meets Maria in Rosewater Park; seeing her in the fog, he mistakes her for Mary. He is taken aback by how much she resembles Mary, and her response is seductive and somewhat mocking. As James is about to leave, she then turns clingy, pointing out that there are monsters everywhere and asking if she can stay with him, to which he reluctantly agrees.
James and Maria eventually make their way to Pete's Bowl-O-Rama. James enters but Maria stays behind, her excuse being that she "hates bowling". When James returns minutes later, Maria says that she saw Laura run out of the building and insists that James help look for her.
Eventually they follow Laura to Brookhaven Hospital. They explore the hospital together, however, Maria suddenly becomes sick. James tells her to rest and leaves her in room S3. If the player checks on her, she will still be there, albeit looking very unwell. Later on, when James traverses into the Otherworld version of the hospital, Maria is nowhere to be found, but several empty medicine bottles are nearby. Fortunately, Maria bumps into James in the hospital's basement but grows angry at James's lack of concern towards her, and his devotion to Mary. Maria helps James lift open a heavy fridge door to obtain the Lead Ring to open the door to the basement. While running through the hospital's basement, Maria is suddenly killed by Pyramid Head and his spear in front of James as they flee into a malfunctioning elevator.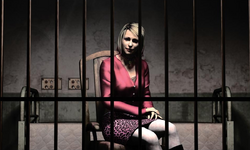 While exploring the Labyrinth, James finds Maria, locked in a cell. She confuses James by talking to him in a very peculiar manner and behaving in a way similar to Mary's personality, especially when she mentions a videotape in the Lakeview Hotel. She then reverts back to her old self and tries to seduce James, hinting sexual favors if he gets her out of the cell. Desperate and confused, James promises to return once he's found a way to rescue her from the cell, but when he does finally return, Maria is dead again; she appears to have been beaten to death. James takes a moment to mourn before leaving.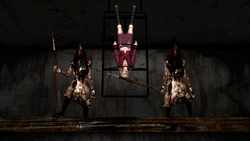 In the Otherworld Lakeview Hotel, James finds Maria alive again, strung up and being tortured by two Pyramid Heads. Maria calls out for James to help, but he can only watch as one of the Pyramid Heads impales Maria in front of him with its spear. He realizes that Pyramid Head keeps killing Maria to remind him of his crime and to punish him for murdering Mary.
James fights the two Pyramid Heads and they realize that they cannot defeat him; they kill themselves as they are no longer needed because James finally understands his sin.
Fate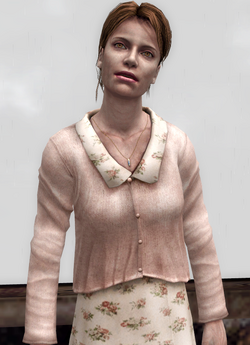 There are two different outcomes for Maria, depending on what ending the player receives. The ending is based on subtle aspects of how Maria is treated during the game. If the player keeps Maria nearby, protects her well from monsters, follows her orders and visits her frequently while she is feeling sick at the hospital, they are more likely to get the "Maria" ending. Skipping Mary's conversation with James in the hotel hallway will also help.
In the "Leave", "In Water" and "Rebirth" endings, James ascends to the roof and Maria is there, although she disguises herself as Mary as a final desperate attempt to make him stay with her. However, James tells her he no longer needs her, as she could never substitute the true love he shared with Mary. Angered by this, she transforms into the final boss and tries to kill James, but ends up being defeated. Maria crashes to the floor and whispers his name, until James finally kills her for good.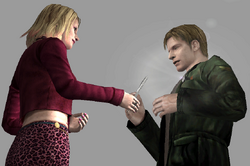 In the "Maria" ending, when James ascends to the roof, "Mary" appears instead of Maria. She tells him that James killed her because she was a burden to him, and he admits that it's the truth. "Mary" tells James she will never forgive him for what he did and transforms into the final boss. After she is defeated, James is looking at Toluca Lake from Rosewater Park, where he first met Maria. Here, he reunites with Maria, who is once again alive and she gives him Mary's letter. They leave Silent Hill together, however, Maria starts coughing along the way, possibly implying she has the same illness Mary had suffered from, and that the events that drove James to murder may repeat themselves.
Creator's comment
"
In the original scenario, the heroine also had an existence characterized by a double personality. The first personality is "Mary," so for the other, the name "Maria" is derived from that.

"
Quotes
Silent Hill 2: Born from a Wish
"What do I do now? Do I fight... and live? Or do those monsters get me? I don't have any reason to go on living, but... I'm scared to die. I'm so afraid of pain. Should I... run away? I want to find somebody. I don't like being alone. But... but is there anyone left alive?"
"You want to be alone in this insane asylum?"
"Ernest, Amy... she isn't...?! I'm sorry... I'm sorry I reminded you..."
"I don't mind fighting for an impossible cause. Anyway, it beats just giving up and doing nothing."
"Anyway, that's just what you think. You don't really know anything. That's fine."
Maria: "You think miracles can really happen?"
Ernest: "This is Silent Hill."
Maria: "Yeah, maybe that's the problem."
Ernest: "Maria, the Gods are here. You know it too. You were born in this town."
Maria: "I'm not sure "God" is the right word..."
Silent Hill 2: Letter from Silent Heaven
"Do I look like your girlfriend?"
"My name is Maria. I don't look like a, uh... ghost, do I? See? Feel how warm I am?"
"Don't get so mad. I was just joking."
"You were gonna just leave me? With all these monsters around? I'm all alone here. Everyone else is gone. I look like Mary... don't I? You loved her, right? Or maybe... you hated her."
"James... wait a minute... I'm kind of tired. It's just a hangover..."
"James, I want to ask you something. What if... what if you can't find Mary? What will you do?"
"Anyway?! What do you mean "anyway"?! You don't sound very happy to see me! I was almost killed back there! Why didn't you try to save me?! All you care about is that dead wife of yours! I've never been so scared in my whole life! You couldn't care less about me... could you?"
"Then stay with me! Don't ever leave me alone! You're supposed to take care of me!"
"So what about Laura? Did you find her? We've got to find her! I never met her before. I just feel sorry for her. She's all alone... And for some reason... I feel like it's up to me to protect her."
"Come on, you're supposed to be the big man around here. How's a little girl like me supposed to help?"
"What's this? Not very cute, is it? Here James. You take it." (after finding Lead Ring)
"What was THAT...?" (after the Trick or Treat Box radio transmission)
"James! JAMES! JAMESSSSSSSSSSS!" (killed by Pyramid Head)
"James, honey... did something happen to you? After we got separated in that long hallway? Are you confusing me with someone else? You were always so forgetful... remember that time in the hotel? You said you took everything, but you forgot that video tape we made. I wonder if it's still there..."
"It doesn't matter who I am. I'm here for you, James. See? I'm real."
"Don't you want to touch me? Come and get me. I can't do anything through these bars. Hurry back, okay?"
"When will you ever stop making that mistake? Mary's dead. You killed her." (Leave ending)
"What?! You must be joking. But I can be yours! I'll be here for you forever. And I'll never yell at you, or make you feel bad! That's what you wanted! I'm different than Mary! How can you throw me away?!" (Leave ending)
"No! I won't let you! You deserve to die too, James!" (Leave ending)
"Wrong again. Mary's dead. You killed her." (In Water ending)
"I'll never let you have your Mary back!" (In Water ending)
"What? But I'm what you wanted! Mary's dead. Don't you understand? She's not coming back! But I can be yours... I'll be here for you forever. I'll never hurt you like she did! So why don't you want me!" (Rebirth ending)
"C'mon, James! You must be joking!" (Rebirth ending)
"James.... James... James..." (Maria's final words)
"You killed Mary again...?" (to James in the Maria ending)
Trivia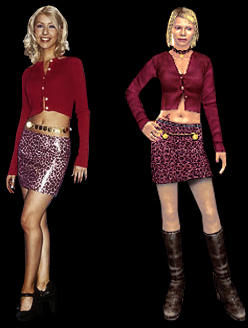 There is a strong possibility Maria was visually designed based on Christina Aguilera's appearance at the 1999 Teen Choice Awards. Aguilera's middle name is also Maria, however, this is probably just a coincidence.
There is persistent butterfly and moth symbolism surrounding Maria in the game. She has a butterfly tattoo on her abdomen, and in many cultures, butterflies represent rebirth, which is relevant to her being a new form of Mary (not unlike how a caterpillar becomes a butterfly). In the final boss fight, Mary/Maria attacks with a swarm of black moths, a symbol of death in some cultures.
Maria's occupation is questionable. The Book of Lost Memories simply mentions it as "dancer". In the novelization, she says she used to work at Heaven's Night but apparently doesn't anymore. However, in Born from a Wish and Letter from Silent Heaven, Maria still has access to Heaven's Night and has the keys to the establishment.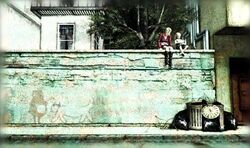 The gallows platform in the prison shows two executioners wearing triangle-shaped headgear holding spears, with a person in the middle hanged by a noose. This is likely foreshadowing of Maria being killed by the two Pyramid Heads.
Maria is the first female playable character in the main series. However, she is not the first female main character, who is Heather Mason in Silent Hill 3. Cybil Bennett is technically the first playable female, though only in a spin-off game, the Silent Hill: Play Novel.
The name Maria is the Latin form of Mary, often used to refer to the Virgin Mary in traditional Latin songs and compositions.
The design of Maria's towel seen in her room in Heaven's Night resembles Mary's clothes.
In Born from a Wish, Maria can examine a phone in Baldwin Mansion and comment "I've got no reason to use the phone", despite possibly being trapped a in a demonic hellish town full of monsters. Earlier, Maria even said, "I want to find someone. I don't like being alone".

In the first game, Cybil implies that phones don't work in the Fog World. However, it wouldn't hurt for Maria to at least try multiple phones.
In Born from a Wish, if Maria examines a teddy bear in Amy's room, she comments that Laura would love it, suggesting she has Mary's memories. Maria then wonders "Laura...? Who am I talking about?"
When James returns to Maria's hospital room in the Otherworld, heavy breathing can be heard.[1]
A hack in the game can allow Maria to accompany James throughout the rest of the game. Through a cheat system or by downloading a hacked save file, the player can hack the Old Bronze Key in their inventory, allowing Maria and James to enter the Silent Hill Historical Society and skip the entire hospital level where Maria dies.
Another glitch in the game occurs within the hospital hallway where Pyramid Head is. Sometimes, Pyramid Head will spawn in front of Maria. This is mostly useful in Hard Difficulty, as Pyramid Head will still march forward, ignoring Maria and making it impossible for her to die.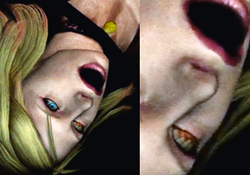 There is also a glitch that takes place only in the Silent Hill HD Collection. When Maria is impaled by the two Pyramid Heads near the game's end, the texture for her right eye is briefly replaced by the texture of her teeth.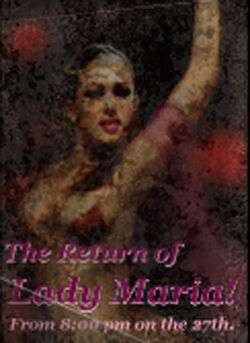 In Silent Hill 3, Heather Mason finds a poster in Heaven's Night of a woman with long dark hair with "Return of Lady Maria!" on it. This could suggest that Maria's appearance was actually based on a dancer in Heaven's Night. In "The Making of Silent Hill 2", Takayoshi Sato, the CGI creator of Silent Hill and Silent Hill 2, stated that Maria had bleached her hair from brunette to blonde and added pink tips.
When inputting the Konami Code to make Douglas Cartland wear boxers in Silent Hill 3, Maria's moan from the "Dog" ending is heard to confirm the code has been entered correctly.
There are posters of Maria in the bathrooms at the beginning of the game.
Like Lisa Garland, Maria may be a PTV addict. Maria is seen swallowing a pill in the hospital. The pill bottle seems to say "white" on it, which may be White Claudia, affirming this speculation.
Maria appears on the cover of Silent Hill 2: Restless Dreams (in Japan), the Silent Hill 2 Soundtrack and the Silent Hill HD Collection.
The polygonal structure of Maria's face is the same one as Mary's. This was implied by Takayoshi Sato, who designed Maria and Mary.
Themes
Maria has a number of music pieces which can be associated with her.
Born from a Wish
Letter from Silent Heaven
Gallery
Concept art and models
Silent Hill 2: Born from a Wish
Silent Hill 2: Letter from Silent Heaven
Misc
Ad blocker interference detected!
Wikia is a free-to-use site that makes money from advertising. We have a modified experience for viewers using ad blockers

Wikia is not accessible if you've made further modifications. Remove the custom ad blocker rule(s) and the page will load as expected.