The Mannequin is a headless armless dummy monster that James Sunderland encounters in Silent Hill 2, which also happens to be unexpectedly animate.
James's first encounter with this monster is in Room 205 of the Wood Side Apartments. It will spring to life immediately after retrieving the flashlight from an inert mannequin that is dressed in Mary Shepherd-Sunderland's clothes.
Appearance
These monsters consist of a feminine human torso, clad in what looks like a leotard made from putrid skin, and legs, upon which rest two more legs standing upright, though they noticeably lack feet. The top pair of legs are used for striking while the bottom pair are used for walking. When on the attack, they rub their upper legs together like an insect's mandibles.
Character
The creatures stand completely still at plain sight, like statues, and react strongly to the flashlight, suddenly becoming animate and attacking when the light strikes them from a relatively short distance. This is in contrast to most other creatures, which react to light even when they are far from the light's source.
A Mannequin will also come to life when James steps within a radius of three to five feet around it, even with the flashlight off. Although they are not overly strong creatures, they may be hard to detect in dark environments due to their immobility, which can trick the player's vision by making them blend in with the environment. Mannequins also have the advantage of stealth, as the radio will not emit static to warn the player of their presence until they start moving.
Symbolism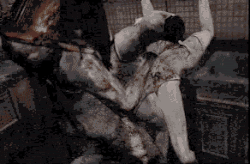 The Mannequin is a manifestation of James's natural urges and inclinations.[1] The creature is likely manifested because of his sexual frustration with his wife's ailment. They are literally "just pairs of legs" and nothing more. The novelization mentions they were "born from lust".[2]
Pyramid Head's introductory cutscene has him abusing two Mannequins. Because of this, it's possible that the Mannequin may also be an image of female innocence and helplessness being misused or otherwise destroyed by an oppressive, masculine force — a symbol that is later touched on in Toluca Prison, where James finds the Tablet of "The Oppressor", a likely metaphor of James's final act upon his wife.
Mannequins also appears in Maria's Born from a Wish scenario, which makes sense because Maria is essentially an illusion of Mary.
Trivia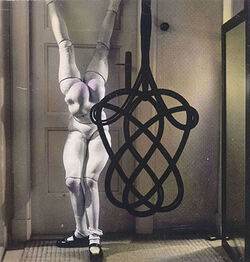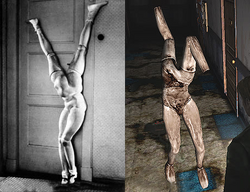 References
↑ "Silent Hill 2 creature commentary". Silent Hill 3 公式完全攻略ガイド/失われた記憶 サイレントヒル・クロニクル [Silent Hill 3 Official Strategy Guide / Lost Memories: Silent Hill Chronicle] (in Japanese). NTT Publishing Co., Ltd. 2003-07-31. p. 48. ISBN 4-7571-8145-0.
Gallery
Models
Silent Hill 2
Ad blocker interference detected!
Wikia is a free-to-use site that makes money from advertising. We have a modified experience for viewers using ad blockers

Wikia is not accessible if you've made further modifications. Remove the custom ad blocker rule(s) and the page will load as expected.