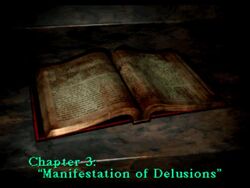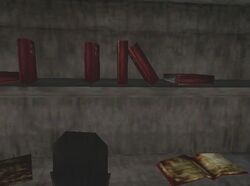 This article is for the memo as seen in the original Silent Hill game. For a version found by Travis Grady in Silent Hill: Origins, see Manifestations of Delusions (Origins).
The Manifestations of Delusions article may be found by Harry Mason in the library reserve of Midwich Elementary School. To read this article, it is required to examine the writing on the wall in the toilet or else Harry will simply say "No useful books" while examining it. According to notes from the official guidebook, it is mainly referring to the existence of the monsters.[1]
Transcript
"Poltergeists are among these. Negative

emotions like fear, worry or stress

manifest into external energy with

physical effects. Nightmares have, in

some cases, been shown to trigger them.

However, one such phenomenon doesn't

appear to happen to just anyone. Although

it's not clear why, adolescents, especially

girls, are prone to such occurrences."