A Lurker from Silent Hill: Homecoming
Debut
Silent Hill: Homecoming
Lurkers are a common monster in Silent Hill: Homecoming. Alex Shepherd first encounters one in his flooded basement, from where his mother had recently left.
Appearance
Lurkers appear as bald humanoid monsters with huge claws. Their legs are fused together or bound by layers of dead skin, so they drag them uselessly behind them. Their faces are blank save for a huge, vertical slit down the middle of their heads, filled with horrific teeth. Most notably, their wrists are severed and a series of three, sickle-like blades are grafted on to the stubs of their arms. They use their arms to crawl and attack.
Character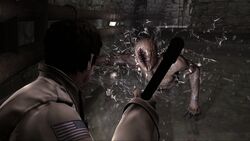 The aggressive monster moves slowly by crawling on their hands, dragging themselves forward. However, they attack with alarming speed. They swipe at Alex with their long claws, and, when at a medium distance from him, lunge out and knock him down. The horrific claws make them exceptionally dangerous, however they lack lengthy stamina. They are best dealt with at either long range or in melee, to avoid their most devastating attack. Lurkers also have a tendency to crawl out of small hiding places and ambush Alex. They are located in the Silent Hill streets and in flooded buildings, therefore making water a constant risk to enter. Overall, the swift speed and brute force of their claws can make Lurkers a very treacherous enemy to the protagonist.
Symbolism
Lurkers may represent the restraint Alex felt throughout his life and the lack of love from his family. The mouth of the Lurker is reminiscent of vagina dentata, suggesting possible gynophobia.
They also possibly represent the death of his brother Joshua, as Joshua drowned and Lurkers have an appearance similar to a twisted version of a mermaid. Its claws also highly resemble tools of torture.
As well, similar to the Schism beast, Lurkers hold a more obscure symbolism to being "split"- upon observing a Lurker's chest area, the player can notice that the flesh appears to be sewn together vertically, possibly suggesting that it was once split open. The fact it is now sewn shut may allude to Alex's repressed memories of how Josh died.
Their significance can be further expanded upon after obtaining the Kneeling Man Plate, which in the puzzle signifies penitence. If the tablet is examined, the picture displays a kneeling man in prayer whose upper body looks exactly like the Lurker when its body is at its most upright; this could imply that they mainly symbolize Alex's regret and need for penitence after what he did to Joshua.
Much like the Lurker, Alex's memories lay hidden just below the surface. When they emerge, they bring with them only pain and suffering.
Trivia
Defeating a Lurker for the first time while playing the Xbox 360 version of the game will award the player with the achievement "Lurk no More".
If the player decapitates a Lurker with the axe, it is very likely that the monster won't die immediately. It may swipe and even succeed in injuring Alex, or it may pursue him for a few moments and attempt to lunge at him before actually falling dead.
It is possible that the humanoid monster that attacks Heather Mason in the asylum featured in Silent Hill: Revelation was influenced by the Lurker; its distorted mouth is also the only feature on its face, and the noise it makes as well as even skin tone are similar to the Lurker.
Gallery