Lost Memories: The Art & Music of Silent Hill
Talk

0
Share
Ad blocker interference detected!
Wikia is a free-to-use site that makes money from advertising. We have a modified experience for viewers using ad blockers

Wikia is not accessible if you've made further modifications. Remove the custom ad blocker rule(s) and the page will load as expected.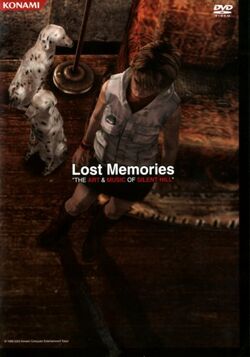 Lost Memories: The Art & Music of Silent Hill is a non-interactive DVD containing soundtracks, trailers, special videos, arts and other images from Silent Hill 1-3. Menus are in English as well as videos (with Japanese subtitles).
Sound
Trailers
Silent Hill

Opening (2:18)
E3 1998 (2:53)
TGS 1998 Autumn (2:50)
UFO End (3:54)
Silent Hill 2

Opening (3:54)
TGS 2000 Autumn (4:39)
TGS 2001 Spring (7:54)
E3 2001 (5:44)
UFO End (1:29)
Silent Hill 3

Opening (3:12)
E3 2002 (3:21)
TGS 2002 Autumn (5:30)
Gamers Day (1:58)
E3 2003 (6:39)
You're Not Here (2:46)
Dog Ending of Silent Hill 2 (Hidden trailer. To watch it you have to move the cursor above the "Trailers" title in the main menu, move it to the right afterwards and press a square after the title)
Pictures
Silent Hill - 20 pictures
Silent Hill 2 - 20 pictures
Silent Hill 2: Born from a Wish - 20 pictures (Hidden section. To enter, move the cursor above the "Silent Hill 2" title in the Pictures menu, move it to the right afterwards and press a square after the title)
Silent Hill 3 - 24 pictures
Creatures
Silent Hill - 11 pictures
Silent Hill 2 - 16 pictures
Silent Hill 3 - 26 pictures
Production Material
Silent Hill - 11 pictures
Silent Hill 2 - 16 pictures
Silent Hill 3 - 26 pictures
Art of Silent Hill
Bonus