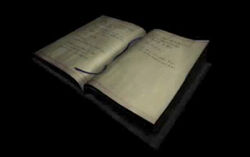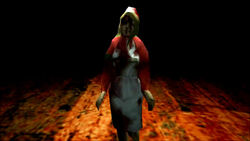 Lisa's Diary is an optional memo that can be read in the original Silent Hill. Harry Mason can find the diary following the last scene with Lisa Garland in Nowhere, after going through the door with the Grim Reaper's List puzzle. When Harry returns from the second room (the morgue), a cutscene will play. The diary can only be found if Harry returns to the room the scene took place in; it will be laying on the ground.
It contains Lisa's thoughts while she was in charge of taking care of Alessa Gillespie. The diary reveals that she has been under the influence of the drug PTV, and that Alessa's influence has kept her confined within the hospital. Lisa mentions that she has told the doctor she wants to quit her job. This scene is shown in Silent Hill's opening video, showing Lisa arguing with Dr. Michael Kaufmann.
Transcript
"Ask doctor to let me quit being

in charge of that patient.


It's too weird.


Still alive,

but with wounds that won't heal.


Told the doctor I quit.

Won't work at that

hospital anymore.


The room is filled with insects.

Even with doors

and windows

shut they get in to spite me.


To the Hospital...


Feeling bad.

Need to throw up.

But nothing comes out.

Vomiting only bile.

Blood and pus flow from

the bathroom faucet.

I try to stop it,

but it won't turn off.


Need drug.


Help me..."