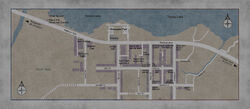 Lindsey Street is one of the streets in the South Vale region of Silent Hill. The street is seen in Silent Hill 2. Lindsey Street is located in the east part of South Vale. It's blocked with a high wall in south and a chasm in the north.
Silent Hill 2
James Sunderland encounters a silhouette here and follows it to Vachss Road.
Later, James returns to the street and takes the wrench near one of the houses.
The Swamp Monument is located here.
From here, James can go to Katz Street, Sanders Street and Vachss Road.
Trivia
Gallery