Description
"I bought this from a vending machine. It looks real enough."
Purpose
Unlocks "Elberton Life Insurance" area
Location
"One Stop Imports," 4F Alternate Hilltop Center
Appearances
Silent Hill 3
The Life Insurance Key is one of the keys Heather Mason obtains in Silent Hill 3. Heather finds the key after inserting a coin into a vending machine in the Otherworld Hilltop Center. The vending machine is located in a One Stop Imports office on the fourth floor, and after using the coin, Heather receives a soda can. The can, however, is empty, and after shaking and opening it, Heather fetches the key that was inexplicably inside the closed can.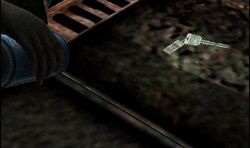 The life insurance key is used to access the Elberton Life Insurance offices located on the first floor of the building. It isn't clear how the key managed to be sealed in a soda can; however, the vending machine and the silver coin could symbolize how "life insurance" must be bought at a price. According to the Book of Lost Memories, it plays off of a fear of machines that perform functions outside of their predetermined roles.