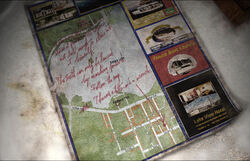 Letter and a Wrench is a message found written on a map in the director's room on the first floor of the Otherworld Brookhaven Hospital in Silent Hill 2. The message informs the player to find the locations of a letter and a wrench. The locations of these items will be marked on the player's map after reading this message.
Transcript
"He who is not bold enough

to be stared at from across

the abyss is not bold enough

to stare into it himself.

The truth can only be learned

by marching forward.


Follow the map.

There's a letter and a wrench."
Ad blocker interference detected!
Wikia is a free-to-use site that makes money from advertising. We have a modified experience for viewers using ad blockers

Wikia is not accessible if you've made further modifications. Remove the custom ad blocker rule(s) and the page will load as expected.