Occupation
Warden of Wayside Prison
"
Just remember, this ain't about me, Cunningham. It's about how much you love your father.
—Trent to Anne

"
Leonard B. Trent is a minor character in Anne's Story.
Suspecting Murphy Pendleton and wanting revenge (murder) for her father, Anne Marie Cunningham slept with him for a transfer. However, word got out and her reputation was diminished, ending her marriage with Mark Cunningham.
Eventually, the transfer to Ryall State Prison was successful.
During Anne's Story, he manifests as a sexualized phallic monster and reminds Anne of what they did together.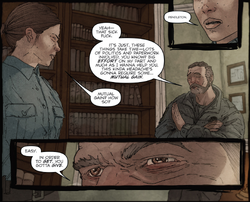 Ad blocker interference detected!
Wikia is a free-to-use site that makes money from advertising. We have a modified experience for viewers using ad blockers

Wikia is not accessible if you've made further modifications. Remove the custom ad blocker rule(s) and the page will load as expected.