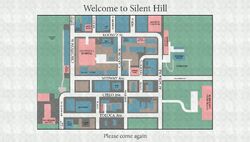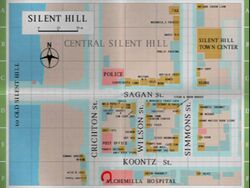 Koontz St. is a road in the central part of the Central Silent Hill section of Silent Hill, seen in Silent Hill: Origins, Silent Hill and Silent Hill: Homecoming. Koontz Street connects Crichton Street, Wilson Street, Simmons Street, Wein Street, Canyon Street, and Acadia Road.
Silent Hill: Origins
After Travis wakes up in Central Silent Hill, he decides to check Alchemilla Hospital to see if the mysterious girl who he saved from the fire has been taken there. He checks the map and sees that the hospital is located on Koontz Street.
Later, Travis visits Koontz Street a second time after he leaves Artaud Theater and decides to go to Riverside Motel. A hole in the road blocks direct access to the motel, so Travis must enter Andy's Books in order to bypass the hole on Koontz Street that blocks his path.
Silent Hill
After Harry Mason speaks with Dahlia Gillespie in Balkan Church, he goes to Koontz Street in Central Silent Hill to check the hospital, just like Dahlia ordered him.
Businesses
Alchemilla Hospital
Post Office
Andy's Books
Green Pharmacy
Cafe Sun
Taco Shack
Artaud Theater
Ad blocker interference detected!
Wikia is a free-to-use site that makes money from advertising. We have a modified experience for viewers using ad blockers

Wikia is not accessible if you've made further modifications. Remove the custom ad blocker rule(s) and the page will load as expected.