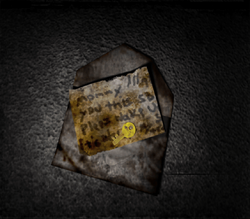 The Kid's Letter is a memo found by Henry Townshend in Silent Hill 4: The Room. The letter is found along with a toy key in a dirty envelope that is slipped under the door to Henry's apartment before the second visit to the Subway World.
Transcript
Mummy, I'll giv you this so pleez
wake up soon.
It's inside my toy train.
Ad blocker interference detected!
Wikia is a free-to-use site that makes money from advertising. We have a modified experience for viewers using ad blockers

Wikia is not accessible if you've made further modifications. Remove the custom ad blocker rule(s) and the page will load as expected.