Description
"Key to room number 312 in the hotel. It was lying behind the counter of the lobby reception desk."
Location
Main Lobby, 1F Lakeview Hotel
Variants
Key to Hotel Room 204
Appearances
Silent Hill 2
The Key to Hotel Room 312 is found in the main lobby on the first floor of the Lakeview Hotel in Silent Hill 2. It can be found behind the reception desk in the lobby, within one of the key boxes.
The key unlocks the door to Room 312 on the third floor of the hotel, the same room that James Sunderland and Mary Shepherd-Sunderland stayed in during their vacation in Silent Hill, three years prior to the events of the game.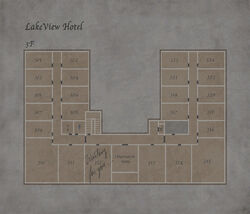 Ad blocker interference detected!
Wikia is a free-to-use site that makes money from advertising. We have a modified experience for viewers using ad blockers

Wikia is not accessible if you've made further modifications. Remove the custom ad blocker rule(s) and the page will load as expected.