The Key of the Persecuted
Description
"Key left by prisoner who was wrongly executed."
Purpose
Unlocks the gate valve in the Labyrinth
Appearances
Silent Hill 2
The Key of the Persecuted is found in the labyrinthine area in Silent Hill 2 and is obtained after solving the Free the Innocent Man puzzle. After pulling the correct noose, the key will be left on the ground below whomever was wrongly persecuted. It is then used to remove the handcuffs that are keeping a wall valve from turning in a nearby corridor. After the handcuffs are removed, the valve raises a gate that previously blocked James Sunderland's path.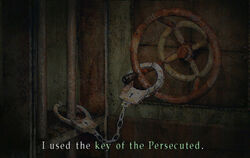 Ad blocker interference detected!
Wikia is a free-to-use site that makes money from advertising. We have a modified experience for viewers using ad blockers

Wikia is not accessible if you've made further modifications. Remove the custom ad blocker rule(s) and the page will load as expected.