Description
"The word 'Phaleg' is engraved on the key."
Purpose
Unlocks the door marked "Phaleg" in the main hallway 1F, Nowhere.
Location
Inside the locked birdcage in the birdcage room 1F in the main hallway, Nowhere.
The Key of Phaleg is located inside a locked birdcage within a small room on the 1st floor in the main hallway of Nowhere.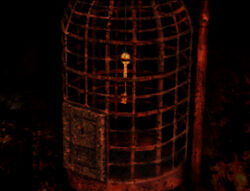 Engraved on the key is the word "Phaleg". This key unlocks the corresponding door marked "Phaleg", also in the main hallway. To open the bird cage, Harry Mason first needs to locate a key which is obtained after solving the Light Puzzle.
Trivia
The name "Phaleg" is derived from the seven Olympian spirits. The spirits are often invoked in the occult, and are sometimes confused with archangels. In this case, "Phaleg" refers to the Olympian spirit of the planet Mars.
See also
Gallery