Description
"The word "Bethor" is engraved on the key."
Purpose
Unlocks the door marked "Bethor" in the Phaleg hall 1F, Nowhere.
Location
Inside a bag of jellybeans on a shelf in the Storeroom in Nowhere.
The Key of Bethor is a key required to unlock the door labeled as "Bethor" in the Phaleg Hall of Nowhere. Harry Mason finds them inside a bag of jellybeans on a shelf in the storeroom, which is also located in the Phaleg Hall.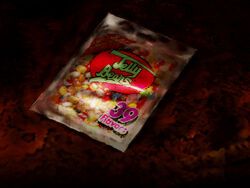 When Harry rips open the bag, the contents spill onto the floor, and upon searching the ground, he finds the key, which has the word "Bethor" engraved onto it.
Trivia
The name "Bethor" is derived from the seven Olympian spirits. The spirits are often invoked in the occult, and are sometimes confused with archangels. In this case, "Bethor" refers to the Olympian spirit of Jupiter.
The logo and the "39 flavors" on the packet is a reference to Jelly Belly brand jellybeans.
See also
Gallery