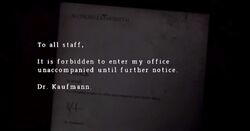 Kaufmann's Notice is found in Silent Hill: Origins. Travis Grady can locate the note in the first floor examining room of Alchemilla Hospital. The memo is a letter from Dr. Michael Kaufmann to the hospital's staff that forbids unaccompanied entry into his office.
Transcript
"To all staff,


It is forbidden to enter my office

unaccompanied until further notice.


Dr. Kaufmann."
Ad blocker interference detected!
Wikia is a free-to-use site that makes money from advertising. We have a modified experience for viewers using ad blockers

Wikia is not accessible if you've made further modifications. Remove the custom ad blocker rule(s) and the page will load as expected.