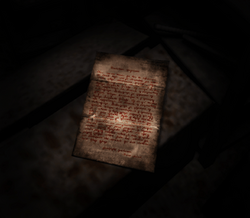 Joseph's Letter is a memo found in Silent Hill 4: The Room. It is located in Room 302 in the laundry after returning from the Room 302 of the Past. The letter was written by Joseph Schreiber and intended to help the person who would live in Room 302 after him stop Walter Sullivan from completing the 21 Sacraments.
Transcript
He used this place as the locus for the
creation of his world. I'm certain he
must have performed the
"Ritual of the Holy Assumption" near here.
But I'm just not strong enough to stop
him anymore...

He locked me up in this room and
played with me just like a toy...
My eyes are starting to go blind...
The pain...
I can feel my body starting to die...
But...things are taken care of...

Whoever lives here after me...
You'll be the 21st, the last of
the sacrifices...
I leave it up to you...

When the bell tolls,
the ritual begins,
Eileen=mother's body, blood.
Part of the mother's
flesh=the super's room.
This is all that I've been able
to figure out.
I hope this letter gets to you in time...

Joseph Schreiber
Gallery
Ad blocker interference detected!
Wikia is a free-to-use site that makes money from advertising. We have a modified experience for viewers using ad blockers

Wikia is not accessible if you've made further modifications. Remove the custom ad blocker rule(s) and the page will load as expected.