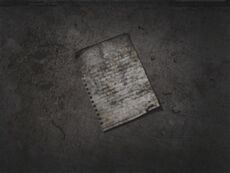 Jasper's Burned Memo is a document found during the second visit to the Forest World near the Wish House Orphanage's burned remains. It describes Jasper Gein's final moments, seconds before he was burned alive.
Transcript
Something's here but nothing's here.
I feel something from the well.
Something's missing.
Aaaaaaaahhhh!!!!!
It has begun!!!
-Jasper
Ad blocker interference detected!
Wikia is a free-to-use site that makes money from advertising. We have a modified experience for viewers using ad blockers

Wikia is not accessible if you've made further modifications. Remove the custom ad blocker rule(s) and the page will load as expected.