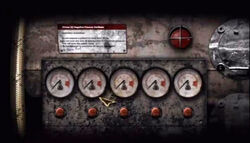 This article is a guide for a Silent Hill: Origins puzzle.
The Iron Lung Puzzle is a puzzle that must be solved in Silent Hill: Origins and is located on the second floor of Cedar Grove Sanitarium. The goal of the puzzle is to make all the pressure meters reach their maximums.
Solution
Travis Grady must turn the first valve twice, then the third twice, then the fifth twice. Afterwards, he must head to the front of the machine where he receives the basement key. This solution is the one most commonly used, though there are other ones that will work just as well.
Ad blocker interference detected!
Wikia is a free-to-use site that makes money from advertising. We have a modified experience for viewers using ad blockers

Wikia is not accessible if you've made further modifications. Remove the custom ad blocker rule(s) and the page will load as expected.