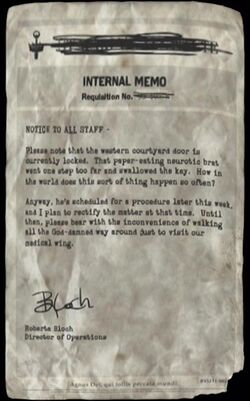 The Internal Monastery Memo is found on a small table in the X-ray room on the second floor of St. Maria's Monastery in Silent Hill: Downpour. It is intended to be a notice to all staff in regards to the western courtyard door, which is indefinitely locked due to a child swallowing the key. This memo is a clue for the Screamer X-Ray puzzle.
Transcript
INTERNAL MEMO
Requisition No. _______
NOTICE TO ALL STAFF -
Please note that the western courtyard door is currently locked. That paper-eating neurotic brat went one step too far and swallowed the key. How in the world does this sort of thing happen so often?
Anyway, he's scheduled for a procedure later this week, and I plan to rectify the matter at that time. Until then, please bear with the inconvenience of walking all the God-damned way around just to visit our medical wing.
Roberta Bloch
Director of Operations
Trivia
Ad blocker interference detected!
Wikia is a free-to-use site that makes money from advertising. We have a modified experience for viewers using ad blockers

Wikia is not accessible if you've made further modifications. Remove the custom ad blocker rule(s) and the page will load as expected.