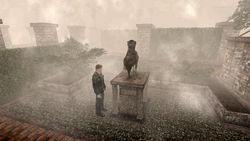 The Inscribed Patrick Chester Statue is found in the eastern side of Rosewater Park in Silent Hill 2. Patrick Chester was a famous citizen of Silent Hill, and a soldier who fought with his son in the civil war. The statue itself is in a state of severe disrepair, with several sections missing including the arms and head.
Transcript
"Patrick Chester, son of Edward.

He fought and died for the people,

for liberty and for all of our

tomorrows.

His memory lives on."
Ad blocker interference detected!
Wikia is a free-to-use site that makes money from advertising. We have a modified experience for viewers using ad blockers

Wikia is not accessible if you've made further modifications. Remove the custom ad blocker rule(s) and the page will load as expected.