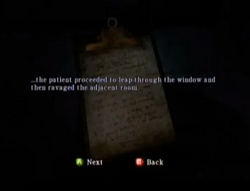 The Incident Report is a memo from Silent Hill: Homecoming. It is located in Room 203 on the second floor of Alchemilla Hospital. The report describes the events of a patient on a rampage.
Transcript
...the patient proceeded to leap through the window, and ravaged the adjacent room.
The patient was not responsive to verbal commands. Three staff members eventually
subdued the patient.
The patient entered a catatonic state and stopped responding to outside stimuli.
Restraints were unnecessary during the following week's electroshock therapy sessions.
Ad blocker interference detected!
Wikia is a free-to-use site that makes money from advertising. We have a modified experience for viewers using ad blockers

Wikia is not accessible if you've made further modifications. Remove the custom ad blocker rule(s) and the page will load as expected.