Hyper Blaster
Talk

0
2,028pages on
this wiki
Silent Hill's Hyper Blaster
Description
"High-powered handgun with infrared scope and unlimited bullets."
Location(s)
In inventory after starting the game on new fear after the UFO Ending.
The Hyper Blaster is a weapon obtained after the UFO Ending of Silent Hill. Alternatively, the player can plug in one of the Konami Justifiers in the P2 slot and it will appear in Harry's inventory at the start (cafe) of the game.
No ammunition is required and it has a long range, and will automatically aim, which means it will rarely miss its target. The auto-aim will also sight enemies in the dark through walls. It is found in the inventory at the start of a new game.
Upgrades
After the gun is acquired, subsequent playthroughs will yield three possible upgrades:
Red Beam (low - as powerful as the handgun)
Yellow Beam (medium - as powerful as the shotgun)
Green Beam (high - as powerful as the rifle)
To obtain the Green Hyper Blaster, the player must receive a 10 star ranking. Remember that using the gun can lower the player's rank at the end of the game.
Trivia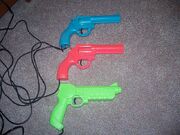 See also