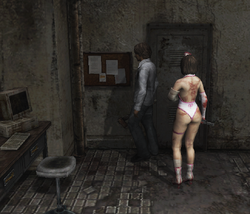 Henry Townshend finds the Hospital Reception Note in the Hospital World pinned to the notice board in the reception room. It has several variants of Eileen Galvin's name spelled with missing letters in different places. After noticing the note Henry says: "What's this note...?"
Transcript
Eile...Galvin...
E...en Galvin
...ileen Galvin
Eilee...Galvin
Eil...en Gal...
...een...lvin
E...n Galvin
Eileen Ga...in
Eileen Gal...n
Eileen...vin
Ad blocker interference detected!
Wikia is a free-to-use site that makes money from advertising. We have a modified experience for viewers using ad blockers

Wikia is not accessible if you've made further modifications. Remove the custom ad blocker rule(s) and the page will load as expected.