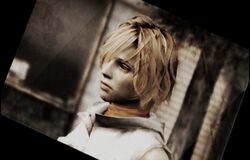 Heather's Photo is a memo found in the Otherworld Hilltop Center in Silent Hill 3. It is located on the desk in the Green Ridge Mental Health Clinic, right before meeting Vincent Smith.
Transcript
The text is written on the back of the picture.
"Find the Holy One.
Kill her?"
Ad blocker interference detected!
Wikia is a free-to-use site that makes money from advertising. We have a modified experience for viewers using ad blockers

Wikia is not accessible if you've made further modifications. Remove the custom ad blocker rule(s) and the page will load as expected.